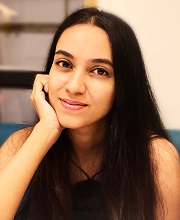 Sanjeevani Jadhav
Accounts Director
Digital India has ushered in a new era of digitisation in the advertising world too.
Youthful, zestful, enthusiastic and passionate, Sanjeevani Jadhav, who after completing her education in Mass Media, further pursued Masters in Entertainment & Media Advertising and with her over five years of experience, innately understands newer challenges and the rising needs in digital advertising.
Sanjeevani with her modern perspective in advertising and as Digital Head of the agency has seamlessly manoeuvred and made a niche for herself with proven ability to put the agency on course and set sail firmly to explore newer shores with abundant opportunities.
The bravado situations and constantly changing nuances of social media, needs special attention, focus and skill sets, which Sanjeevani Jadhav has in abundance, as she is all set to take Sanjeevani Advertising Co, among the top-notch ad agencies in India!
<– Back