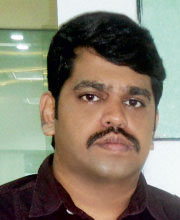 Nandan Poojari
Creative Director
No he doesn't scratch his head, even though it may seem so, in truth he is erasing older ideas to create freshly minted brain waves, which then are sharpened and transformed into innovative concepts and appealing designs. That's Nandan Poojari, fondly addressed as Nandu!
Nandan Poojari may not seem as the Creative Director for Sanjeevani Advertising Co at the first sight, as he believes in the ideology "let my work speak and my mind tweak creatively", he simply lets himself immerse in creativity and performs par excellence, justifying his position in its truest sense, as Sanjeevani's Creative Director.
With a wide array of experience of over two decades in diverse brands and sectors that range from FMCG, hospitality, real estate, education and so forth…and from print media to online, digital & social media, electronic media, outdoor, etc., Nandan is well versed with the nuances, demands and challenges all these sectors expect, and is ever prepared to provide the best and lead the creative team by example, with unmatched quality and productivity.
<– Back